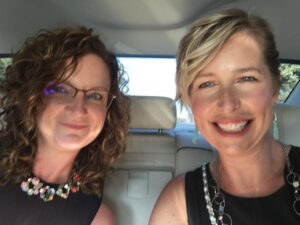 Erin and Kristin are former neighbors, longtime friends and working moms.
Meet Erin
Co-host & Executive Producer
In her professional life, Erin oversees a team of professionals responsible for marketing communications, special events, and donor engagement at a private university. As long-time listeners of Manic Mommies know, she lives in Rochester, NY (a great place to raise a family!) so it's not too hard to figure out which university she might work for.
Prior to her current role, Erin served as the associate vice president for public relations at Syracuse University. Before her career in higher education, Erin was the communications manager for the PBS series Frontline, leading the national promotion and audience engagement efforts for the award-winning investigative news and public affairs series. Her career in public relations and communications spans more than 25 years, though she hates to admit it.
A graduate of the University of Massachusetts Amherst, Erin recently earned a Master of Public Administration degree at the Maxwell School of Citizenship and Public Affairs at Syracuse University. Going back to graduate school while working full time and raising a family was challenging. Very. Challenging.
If she was younger and had more energy she might run for public office. But for now, she's content to wear her "Nevertheless, she persisted" T-shirt while unfollowing people she disagrees with on Twitter.
Meet Kristin
Co-host & Executive Editor
Kristin likes to say she wears as many hats as Bartholomew Cubbins.
A professional communicator Kristin is president of Sundin Associates and Sundin Sports Marketing, full service marketing and advertising agencies outside of Boston where her hats include creative director, account manager, digital and online strategist, and content marketing and social media specialist.
She also manages the marketing & communications for Steve the Bike Guy, the bike shop she co-owns with her husband.
Having once considered life on the stage or in front of a classroom, she now channels those past career aspirations writing on the agency's blog as well as through teaching and speaking at conferences across the country.
A graduate of Wheaton College in Massachusetts, in 2019 Kristin earned her Sports Marketing Certification from Northwestern University. Which is not nearly as impressive as Erin's achievement!
The other hats you might see flying off her head as she dashes by? Girl Scout leader, amateur athlete, fundraiser, parent of teenagers, and chocolate chip cookie aficionado.